Jun-7-06, 12:31 pm by Hanford
File under: Yahoo, Google, maps, User Interface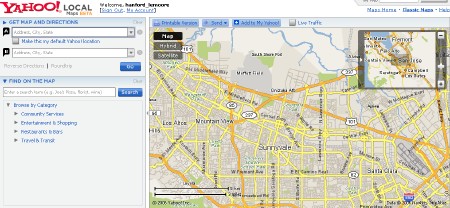 A few months ago I wrote a little rant about how none of the map websites accepted a single paste a of multi-line address, and how lame that was. I followed up with writing my own little hack to make it possible with Google Maps and Yahoo Maps.

Shortly after writing these blog posts, I was asked to do a User Interface presentation at one of the major search/maps companies in Sillicon Valley
. Part of my presentation included the Multi-line paste issue as an example of how simple problems with low-tech solutions can be overlooked and never addressed, and how testing a product differs from actually using a product. My hope with both the UI presentation and my blog posts was that the big map engines would add this simple yet overlooked feature.

Well, a few months ago I noticed that Yahoo Maps Beta was successfully accepting multi-line strings of text pasted into it, properly converting it to one line and adding the comma. Google Maps still chokes on multi-line pastes.

Great work Yahoo. Since it launched I've felt Yahoo Maps Beta was better than Google Maps, but improvements like this is why Yahoo is pulling ahead even further. It's excellent to see a big company paying attention to users and taking the time to implement the small details that make all the difference.


Update:
I got a comment from Matt Cutts pointing out that Google Maps should accept the multi-line paste, and he tried it in IE and it worked. I just tried it in IE and it indeed did work, however it did not work in Firefox (which is pretty much all I use, depsite the fact that it crashes all the time). I've not tried Safari yet.

So, it's cool that Google is listening and working on making it better, even if it's not fully compatible with Firefox yet. I still think Yahoo has an edge here since it worked in Firefox (but they're using Flash, and that's a whole different debate as to whether that's good or bad). Neither Yahoo nor Google have an affordance for it yet, which is why it took me so long to discover the change had been made, but that's okay. Hopefully as more people become familiar with the feature, it will spread as a cool trick.




Feedback - 3 responses
Displayed newest to oldest. Leave a comment.
This post is closed to new comments.